Signum University offers an affordable way to reach your academic aspirations.
Online Courses at Signum University
Through our Language & Literature Department, Signum University offers a variety of classes in Tolkien and Inklings Studies, speculative and medieval literature, as well as classical, medieval, and modern languages.
Our courses are innovative and unique, taught entirely online by world-class professors. Through our interactive web-based classroom interface, Signum is able to offer graduate-level courses that simply are not available anywhere else. Start your journey toward a degree with Signum University today!
Admission Options
You can register to take classes either as a graduate student in our Master's degree program, or you can sign up to audit classes for fun. Learn more about each option below, and select the appropriate button for additional details.
Graduate Program
To participate in our online Master's degree program, simply complete a one-time application, then register for the classes you want to take. Upon registration, you'll receive an email with information about logging into our online learning portal to access class materials, forums, discussion section assignments, and more.
Audit Seats
Most Signum University courses are available for auditing online at a reduced price. There is no need to apply – simply find a current class you like and register at the auditor level. Auditors have access to all online course materials, weekly live and downloadable lectures, and class discussion boards.
Register
If you know which enrollment option you prefer, simply find the class(es) you'd like to take in our online catalog and choose "Register." You will be guided through the registration process. As always, if you have any questions, you can contact us to get help.
The thing I like most about Signum is that it has helped me rediscover a passion that I forgot I had. It has been a long time since I've read critically and really studied a piece of literature, and I did not remember how much I enjoyed that. Plus, it has put me in touch with others of a like mind, or at least similar-enough minds, whom I likely would not have met otherwise. (read more)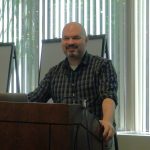 Curtis Weyant
Signum Graduate Student