Join us each year in June for Mythmoot!
"Home is behind, the world ahead / And there are many paths to tread" — J. R. R. Tolkien
Be sure to check the Mythmoot IX page for quick links to attendance options, guests, schedule, and registration as updates occur.
Mythmoot IX: Remaking Myth is coming! Click here!
When is Mythmoot IX? June 23-26, 2022
Where is Mythmoot IX being held?  The Events Committee is pleased to announce the new venue for Mythmoot IX: The Washington Dulles Airport Mariott. It is located just a mile away from Dulles Airport in Northern Virginia. We do not yet have a lodging reservation link for the hotel, but will post that as soon as we have it (a matter of hours).

Is there a remote option? Yes! Our remote team creates an excellent experience for our distance attenders with broadcasts of all the talks and most of the frivolity, along with chatting and meeting ways to participate.
Will Mythmoot be recorded? Most of the events of Mythmoot IX will be recorded, but will only be available after the event to online or in-person attendees. We recommend registering for MootHub or LIVE if you wish to view the recordings afterwards.
Registration FAQ:
How do I register for Mythmoot IX? Register here for in-person or remote attendance!
How do I change my registration? You can cancel your registration or change its type (MootHub vs. Live) or change the number of days by contacting us [email protected]
What is your refund policy? Full refunds for Mythmoot registration are available, minus a $10 processing fee, up until the day of the event.
| | |
| --- | --- |
| Mythmoot Pricing | |
| In Person, Full Conference | $420 |
| In Person, Two Days | $285 |
| In Person, One Day | $145 |
| MootHub Remote Attendance | $75 |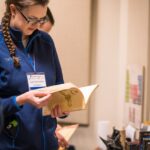 Logistics FAQ:
How can I sign up for lodging? We are currently arranging lodging…  the link is expected in, like, hours!!

Is there a schedule available? A link to a preliminary schedule will be available here soon.
Notice: Attending Mythmoot signifies your agreement for any photos or likeness captured or recorded during Mythmoot to be used by Signum University and its affiliates.
Image by Emily Austin, taken at Mythmoot VI: Dragons.