Join us in Leesburg, VA, from August 6-9, 2020, for Mythmoot VII
Look at how a single candle can both defy and define the darkness. — Anne Frank
In August 2020, we will be returning to the National Conference Center in Leesburg, VA, for Mythmoot VII: Defying and Defining Darkness. Come join us for a weekend of fun, learning, and fellowship.
Dr. Verlyn Flieger
Professor Flieger's new book "Arthurian Voices" will be available for purchase at Mythmoot VII. There will be a small release party and a reading of "The Bargain," a play inspired by the 14th century poem Sir Gawain and the Green Knight.
Verlyn Flieger is Professor Emerita in the Department of English at the University of Maryland, where for 36 years she taught courses in Tolkien, Medieval Literature, and Comparative Mythology. She is the author of five critical books on the work of J. R. R. Tolkien: Splintered Light, A Question of Time, Interrupted Music, Green Suns and Faërie: Essays on J.R.R. Tolkien, and There Would Always Be A Fairy Tale: More Essays on Tolkien. She edited the Extended edition of Tolkien's Smith of Wootton Major. With Carl Hostetter she edited Tolkien's Legendarium: Essays on The History of Middle-earth, and with Douglas A. Anderson she edited the Expanded Edition of Tolkien On Fairy-Stories. With Michael Drout and David Bratman she is a co-editor of the yearly journal Tolkien Studies. She has also published two fantasy novels, Pig Tale and The Inn at Corbies' Caww, an Arthurian novella, Avilion, and the short stories "Green Hill Country" and "Igraine at Tintagel."
Dr. Amy H. Sturgis
We are pleased to let you know that, while Professor Sturgis is no longer able to be with us in person at Mythmoot VII, she is excited to be joining us virtually to give us her keynote speech.
Amy H. Sturgis earned her Ph.D. in Intellectual History from Vanderbilt University and specializes in Science Fiction/Fantasy/Gothic and Indigenous American Studies. She serves as contributing staff for the Hugo Award-winning StarShipSofa podcast, editor in chief for Hocus Pocus Comics, and faculty for Lenoir-Rhyne University and Signum University. Dr. Sturgis is the author of four books and over sixty essays; her published works have earned honors for her scholarship (from The Northeast Tolkien Society) and journalism (from the Los Angeles Press Club). She is also the editor of five books and one magazine issue; the latter, Apex Magazine's "A Celebration of Indigenous American Fantasists," produced the winner of the 2018 Hugo Award and Nebula Award for Best Short Story. Dr. Sturgis lives with her husband in the Blue Ridge Highlands of Virginia. Her official website is amyhsturgis.com.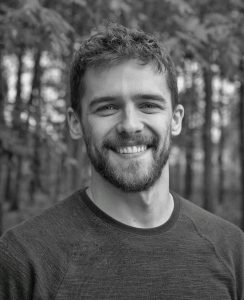 David DelaGardelle
David DelaGardelle has been working as a professional swordsmith and illustrator for the past 15 years. He crafts both history and legend-inspired fully functional hand-forged original swords, knives, and fine art for collectors, museums, and film productions around the world. He loves not only crafting his work, but also teaching his trade both in person and online through Patreon. He lives and works in Muncie Indiana, and outside of his craft his top priority is his amazing son. He has a passion for hiking and backpacking, black coffee at 5am, is a lover of cheesy dad-jokes, and is always eager for great conversations or debates with friends around a campfire.
John Di Bartolo
John Di Bartolo is a "wandering minstrel"; a speaker, writer, and multimedia designer who has played a founding role in many of the exciting endeavors and concepts that have grown out of the fertile 'chance-meeting' grounds of fantasy & related scholarly communities; including but not limited to Legendarium News & Media , Middle-earth Network and the Mythgard Institute. John's wanderings include the nationally touring Celtic fusion bands; Fathom, King Keltic, and the Tolkien-inspired folk fantasy project: Lonely Mountain Band. John's various musical projects have garnered hundreds of thousands of downloads, and views through iTunes, and other digital outlets, including dozens of viral videos on YouTube. Fans of his music have even gone to the lengths of converting John's music into a format that can be played within the virtual game world of Lord of the Rings Online; where as founder of the LOTRO kinship Lonely Mountain Band, John won "Best Gaming Guild" in the 2013 Dragon Slayer Awards by GuildLaunch.com and has been featured on multiple international news outlets including the BBC. From tabletop role playing games and backyard adventures of the imagination to historical and fantasy reading, bible scholarship, and music composition; the spiritual has ever been tied to imagination for this minstrel. John has made it part of his life's goal to keep the road well traversed that leads to the "cottage of lost play." John is currently recording and producing the fourth Lonely Mountain Band album. During his most recent musical quest it is hoped that he will discover the new album complete and ready to release to the world at Mythmoot VII ! The music of the Lonely Mountain Band can be heard without charge at ​MinstrelSongs.com.
Can't attend Mythmoot in person? Livestream the conference with MootCast!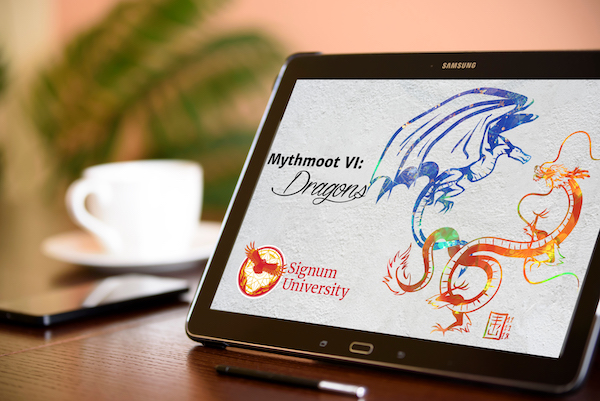 Mythmoot VII Registration
Registration for Mythmoot VII: Defying and Defining Darkness is currently available. Register here.
Lodging
Conference registration does not include lodging. We will update lodging information when it is available.
Conference Pricing and Details
Additional Mythmoot conference pricing and details will be posted here as they become available. Like the Mythmoot Facebook page to get updates on Mythmoot and our regional conferences throughout the year.
Cancellation Policy: Full refunds for Mythmoot registration are available, minus a $10 processing fee, up until 72 hours prior to the event.
Mythmoot VII Pricing
Entire Conference
$499
Two-Day Pass
(Fri. + Sat.)
$340
Two-Day Pass
(Sat. + Sun.)
$330
Friday only
$170
Saturday only
$175
Sunday only
$155
MootCast
$75
Notice: Attending Mythmoot signifies your agreement for any photos or likeness captured or recorded during Mythmoot to be used by Signum University and its affiliates.
Image by Emily Austin, taken at Mythmoot VI: Dragons.