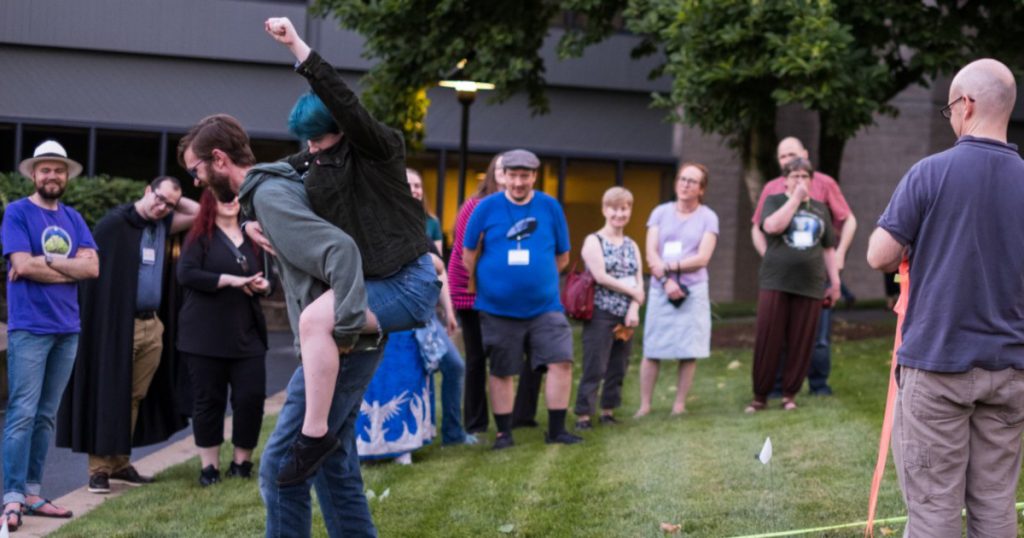 Join us each year in June for Mythmoot!
"Home is behind, the world ahead / And there are many paths to tread" — J. R. R. Tolkien
Mythmoot X: Homeward Bound is coming, June 2023! Click here!
What is Mythmoot? Every year the community of Signum University—students, fans, and staff of the Mythgard Institute, the Graduate School of Arts, the SPACE program—gathers in person and online for academic papers and panels, for hijinks, for creative showcases, for formal and informal discussions, great food, and longlasting memories. Festivities and formal presentations run from Thursday evening through Sunday lunchtime; participants can register for one, two, or three days. Mythmoot includes quiet space, creative space, space for personal conversations. The team prepares from September through June to assemble an accessible, welcoming, rewarding experience.
When is Mythmoot? Every June, the Thursday—Sunday after Fathers' Day. Each year will have its own specific MythMoot page.

Where is Mythmoot held? While Mythmoot has taken place in a few different venues; our favorite to which we will return as often as we may is the National Conference Center in Leesburg, Virginia. What food! What twisty corridors which look strangely familiar! In-person attenders arrange their own lodging, so it's fine to stay with local relatives or somewhere else; most folks book accommodation at the conference center through their web site.
Is there a remote option? Yes! Our remote team creates an excellent experience for our distance attenders with broadcasts of all the talks and most of the frivolity, along with chatting and meeting ways to participate.
Will Mythmoot be recorded? Most of the events of Mythmoot are recorded, but will only be available after the event to online or in-person attendees. You must register for MootHub (online attendance) or in-person attendance if you wish to view the recordings afterwards.
Registration FAQ:
How do I register for Mythmoot? Each year's individual Mythmoot page will have a registration link and information.
How much does Mythmoot registration cost? Remote attendance is always $75. In person prices will be clear on the registration page, varying by how many days you wish to attend and whether you are an early-bird registrant, with a separate price schedule for the children's program.
How do I change my registration? You can cancel your registration or change its type (MootHub vs. Live) or change the number of days by contacting us [email protected]
What is your refund policy? Full refunds for Mythmoot registration are available, minus a $10 processing fee, up until the day of the event.
Logistics FAQ:
How can I sign up for lodging? Attenders arrange their own lodging, usually right there at the venue. We usually have a conference price agreement, so check the specific page for this year's moot for details!
Is there a schedule available? There will be a very detailed schedule a couple of weeks before the event on each year's own specific MythMoot page.. Generally there are Thursday night gathering events; Friday keynotes and presentations with social activities in the evenings; Saturday keynotes, presentation, afternoon graduation, and evening activities (usually dancing); and Sunday morning presentations and lunchtime farewells.
Mythmoot Call for Proposal Details
Start planning now! Each year's specific MythMoot page will have the details as soon as they're available. Anyone attending Mythmoot either in person or remotely may propose a presentation.
Individual Presentations
Whether creative or critical, individual presentations will have 30 minutes — 20 minutes for presentation and 10 for Q&A. (N.B. The "creative" category is not limited to original works but could include presenting or performing art, music, drama, or dance — or even a presentation on how you went about knitting the One Ring into a tea cozy. If you have any questions about what you can present, please contact the submissions email.)
Panels
Panels must contain at least 3 papers and/or presenters and will be allocated 90 minutes total for presentations and Q&A.
Workshops
Workshops must identify their own length (either 30 min, 60 min, or 90 min) and include justification for the requested time. Workshops may be run individually, but it is recommended that a workshop has at least two leaders. (Workshop examples: the knitting of Smaug hats, an interactive discussion on dragon species, etc.)
Papers
Papers will be presented in 90-minute sessions of 1 – 3 presenters. Each presenter will have 30 minutes (20 minutes for presentation and 10 minutes for questions) to present their paper. *These can also count as an individual presentation if you are the sole author and presenter!
Questions? See "How to Present at Conferences" from our very own Dr. Sørina Higgins!
Notice: Attending Mythmoot signifies your agreement for any photos or likeness captured or recorded during Mythmoot to be used by Signum University and its affiliates.
Image by Emily Austin, taken at Mythmoot VI: Dragons.
Looking for more information about Mythmoot? Simply email [email protected]
Nostalgia links:
What else is cool to do in the surrounding area? Here's what experienced Mythmooters suggest:
Smithsonian musea (all free, except you would pay for parking or a metro trip) including the second Air & Space Museum, the Udvar Hazy Center, which is a few miles from Dulles Airport
There's an awesome little Swiss bakery in Springfield, although it's close to an hour drive.
Swing by Philly on your way home! One could check out many colonial American historical sites in Old City; historical and/or art museums; theater, food, the nation's first zoo, Spruce Street Harbor Park…
There's a really great used book store not too far – McKay Used Books – and many delicious restaurants. There are wineries, historic houses and parks, and nearby Loudon has its own (small) tourism website of things to do. My spouse often tags along because his version of a getaway is somewhere where he doesn't need to do the dishes and has internet access so it really is a nice getaway for him.
How much have you all been to the more rural US? Everyone looks at DC as the place to visit, but if you drove down and stayed at the NCC you'd be maybe 45 minutes from the Appalachian Mountains, and they are spectacular: you can visit state parks with lovely views, or drive as far as you want on the Skyline Drive (entrance fees apply to both options).
Mount Vernon (home of George Washington, with some great actors and exhibits; fees to enter),
Monticello (Jefferson, longer drive into VA, fees to enter), and is probably my favorite of all museums.
If you all drink alcohol, there are some spectacular wineries and breweries in Leesburg and further out.
Harper's Ferry is cool.
We consider Mythmoot to be a romantic getaway. In fact we abandon the kids (with their grandma) and stay onsite.
There is a George MacDonald brewery that just opened nearby.
The "Historic Triangle" in SE Virginia.  Three superb historic sites very close to each other: Colonial Williamsburg (cosplay town), Jamestown (very early  European settlement) and Yorktown (battlefield and interpretive center of last major battle in War of Independence) 
Also, one of the best nautical museums in the US is not far away: Mariner's Museum in Newport News