Join us in Leesburg, VA, from June 25-28, 2020, for Mythmoot VII
Look at how a single candle can both defy and define the darkness. — Anne Frank
In June 2020, we will be returning to the National Conference Center in Leesburg, VA, for Mythmoot VII: Defying and Defining Darkness. Come join us for a weekend of fun, learning, and fellowship.
Dr. Verlyn Flieger
Professor Flieger's new book "Arthurian Voices" will be available for purchase at Mythmoot VII. There will be a small release party and a reading of "The Bargain," a play inspired by the 14th century poem Sir Gawain and the Green Knight.
Verlyn Flieger is Professor Emerita in the Department of English at the University of Maryland, where for 36 years she taught courses in Tolkien, Medieval Literature, and Comparative Mythology. She is the author of five critical books on the work of J. R. R. Tolkien: Splintered Light, A Question of Time, Interrupted Music, Green Suns and Faërie: Essays on J.R.R. Tolkien, and There Would Always Be A Fairy Tale: More Essays on Tolkien. She edited the Extended edition of Tolkien's Smith of Wootton Major. With Carl Hostetter she edited Tolkien's Legendarium: Essays on The History of Middle-earth, and with Douglas A. Anderson she edited the Expanded Edition of Tolkien On Fairy-Stories. With Michael Drout and David Bratman she is a co-editor of the yearly journal Tolkien Studies. She has also published two fantasy novels, Pig Tale and The Inn at Corbies' Caww, an Arthurian novella, Avilion, and the short stories "Green Hill Country" and "Igraine at Tintagel."
Dr. Amy H. Sturgis
Amy H. Sturgis earned her Ph.D. in Intellectual History from Vanderbilt University and specializes in Science Fiction/Fantasy/Gothic and Indigenous American Studies. She serves as contributing staff for the Hugo Award-winning StarShipSofa podcast, editor in chief for Hocus Pocus Comics, and faculty for Lenoir-Rhyne University and Signum University. Dr. Sturgis is the author of four books and over sixty essays; her published works have earned honors for her scholarship (from The Northeast Tolkien Society) and journalism (from the Los Angeles Press Club). She is also the editor of five books and one magazine issue; the latter, Apex Magazine's "A Celebration of Indigenous American Fantasists," produced the winner of the 2018 Hugo Award and Nebula Award for Best Short Story. Dr. Sturgis lives with her husband in the Blue Ridge Highlands of Virginia. Her official website is amyhsturgis.com.
Mythmoot Call for Proposals
Where there is light there is darkness—the two play off of each other. This concept appears throughout literature all over the world in yin and yang, good and evil, two sides of the same coin, and even in the literal sun rising and setting. How does one define the darkness? Can darkness only be defied once it is known? Should darkness even be defined or defied? We want to hear how you believe defining and defying the darkness interacts with the stories you love and how you would approach the topic.
We are accepting proposals for Papers, Panels, Workshops, and Creative Presentations about defying or defining the darkness (or tangential topics) in the following areas of study:
Imaginative Literature (ex: Harry Potter, Dune, The Call of Cthulhu, Star Wars, Lord of the Rings, The Dresden Files, etc.)
Tolkien and Inklings Studies
Classic Literature from ancient times to the present
Philology
If you are unsure whether your topic fits, send your proposal or a description of your idea to the listed submissions email, and we will let you know.
Individual Presentations
Whether creative or critical, individual presentations will have 30 minutes — 20 minutes for presentation and 10 for Q&A. (N.B. The "creative" category is not limited to original works but could include presenting or performing art, music, drama, or dance — or even a presentation on how you went about knitting the One Ring into a tea cozy. If you have any questions about what you can present, please contact the submissions email.)
Panels
Panels must contain at least 3 papers and/or presenters and will be allocated 90 minutes total for presentations and Q&A.
Workshops
Workshops must identify their own length (either 30 min, 60 min, or 90 min) and include justification for the requested time. Workshops may be run individually, but it is recommended that a workshop has at least two leaders. (Workshop examples: the knitting of Smaug hats, an interactive discussion on dragon species, etc.)
Papers
Papers will be presented in 90-minute sessions of 1 – 3 presenters. Each presenter will have 30 minutes (20 minutes for presentation and 10 minutes for questions) to present their paper.
Questions? See "How to Present at Conferences" from our very own Prof. Higgins!
Proposal Submittal
Your submission to [email protected] must contain the following in the email:
the type of submission
a title
a 300-word abstract or description
the name(s) of the presenter(s)
a two-sentence biography for each presenter
Title your email "Mythmoot VII Proposal." All submissions must be received by 11:59 pm EST on March 13th, 2020.
No presentations will be given in absentia, and your submission to Mythmoot VII is considered an agreement to attend and present should your proposal be accepted. Each room will have a projector for presenter use.
Can't attend Mythmoot in person? Livestream the conference with MootCast!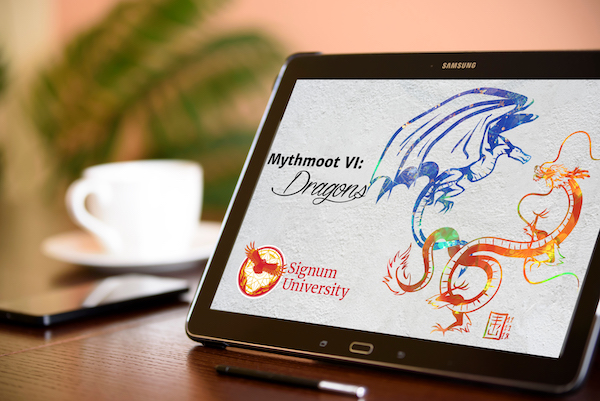 Mythmoot VII Registration
Early bird registration for Mythmoot VII: Defying and Defining Darkness is currently available. Register here.
Lodging
Conference registration does not include lodging. We will update lodging information when it is available.
Conference Pricing and Details
Additional Mythmoot conference pricing and details will be posted here as they become available. Like the Mythmoot Facebook page to get updates on Mythmoot and our regional conferences throughout the year.
Early Bird Registration Is Open!
Mythmoot VII Early Bird Pricing
Entire Conference
$449
Two-Day Pass
(Fri. + Sat. or Sat. + Sun.)
$299
Friday only
$155
Saturday only
$160
Sunday only
$140
MootCast
$75
Notice: Attending Mythmoot signifies your agreement for any photos or likeness captured or recorded during Mythmoot to be used by Signum University and its affiliates.
Image by Emily Austin, taken at Mythmoot VI: Dragons.