Join us from June 23-26, 2022, for Mythmoot IX: Remaking Myth
Mythmoot IX: Remaking Myth is coming!
Mythmoot IX is a hybrid event! We will be live June 23-26, 2022 at the National Conference Center in Leesburg, Virginia (as in years past) and have an online option (MootHub) for participants who cannot attend live.
Dr. Michael D. C. Drout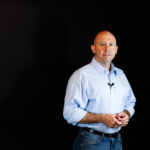 Dr. Michael D.C. Drout is Professor and Chair of English and Director of the Center for the Study of the Medieval at Wheaton College, Norton, Massachusetts, where he teaches classes in Old and Middle English, Old Norse, Linguistics, Science Fiction and the works of J.R.R. Tolkien. He has authored and co-authored several books, including ones on Aglo-Saxon, Beowulf, Old English, and the Liberal Arts. He edited J.R.R. Tolkien's Beowulf and the Critics and the J.R.R. Tolkien Encyclopedia and co-edited Transitional States: Cultural Change, Tradition and Memory in Medieval England. One of the founders of the journal Tolkien Studies, for which he has co-edited 19 volumes, Drout has published over sixty journal articles and books chapters on topics including Beowulf, digital humanities, Old English psalter glosses, Tolkien, math in science fiction, the hellmouth in the poem "Guthlac," and Anglo-Saxon medical remedies. He also serves as a consultant for The Lord of the Rings On-line MMPORG, Drout has appeared in two History Channel mini-series and recorded thirteen audio courses.
Dr. Faith Acker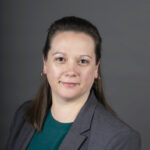 Dr. Faith D. Acker holds a PhD in Renaissance Literature from the University of St. Andrews and is the author of First Readers of Shakespeare's Sonnets, 1590-1790 (Routledge, 2020). Faith precepted her first Signum University course in 2011 and has, since then, lectured on Signum's MA courses "Shakespeare and the Middle Ages" (2017) and "The Life and Times of the English Epic" (2019) in addition to teaching at the University of Sheffield (2012-13), Cornerstone Academy (2013-17), Montgomery College (2017-18), Northern Virginia Community College (2017-19) and Southeastern Louisiana University (2020-21). Her current research examines the satirical portrayals of servants and tradesmen in seventeenth-century epitaphs.
Jeff LaSala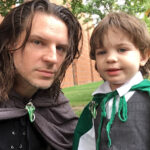 Jeff LaSala is a production editor for Tor Books at the Macmillan Publishing Group, a freelance writer, and a longtime tabletop gamer. As a Tolkien columnist for Tor.com, he writes essays that discuss, praise, and adoringly poke fun at all things Arda; for the Silmarillion Primer and its follow-up series, Deep Delvings into Middle-earth, he is entirely to blame. Jeff has written RPG adventures and campaign lore for Goodman Games, Dungeon and Dragon magazine articles for Wizards of the Coast, and the Eberron novel The Darkwood Mask. He can even be accused of hoodwinking a host of fantasy authors into writing cyberpunk fiction in the experimental, multimedia anthology known as Foreshadows: The Ghosts of Zero.
Mythmoot Call for Proposals
This year, our theme is "Remaking Myth." Writers are simultaneously makers of new mythologies and remakers of timeless tales. Their skills in creation show us that the same stories return again and again, from one era to another, from one culture to another, in hundreds of guises across dozens of worlds. Our contemporary tales draw from sources as diverse as ancient manuscripts and timeless oral traditions to the latest release from Disney or Pixar—which in turn reimagine earlier stories, and so on, in endless iterations. A Greek goddess may show up in a Medieval morality play, on the Shakespearean stage, or on the streets of Chicago wearing jeans and a T-shirt. Dragons still roar and burn their way through contemporary children's picture books, YA novels, HBO series, and serious literary fiction from ancient times to the present. Hobbits have wandered into worlds other than Middle-earth. Humans keep on telling and retelling myths and legends even while the world around us changes: Why? Why does King Arthur keep appearing in animations and allegories and anime? What is the timeless appeal of certain tales? What archetypal essence remains throughout a character's evolution? And how do stories change in the telling?
We are accepting proposals for Papers, Panels, Workshops, and Creative Presentations about "remaking myth" in the following areas:
Imaginative Literature including film and other media (ex:

Sherlock Holmes

,

Dune

,

The Left Hand of Darkness

,

Star Trek

,

Lord of the Rings

,

The Dresden Files

, etc.)

Tolkien and Inklings Studies

Classic Literature from ancient times to the present

Philology, Historical Linguistics, and ConLangs

interrelated topics such as superheroes, philosophy, media, and fandom studies
If you are unsure whether your topic fits, send your proposal or a description of your idea to the listed submissions email below, and we will review it in advance.
(N.B. The "creative" category is not limited to original works of fiction but can include crafting, music, drama, dance, or other performative arts. If you have questions about what you can present, please contact us.)
Individual presentation/paper, whether creative or critical, will have 30 minutes: 20 minutes for presentation and 10 for Q&A. Each presentation/paper will be presented in 90-minute sessions of 1 – 3 presenters.
Panels must contain at least 3 papers and/or presenters and will be allocated 90 minutes total, inclusive of presentations and Q&A.
Workshops will be either 30 min, 60 min, or 90 min; the proposal must include justification for the requested time. We recommend at least two leaders for each workshop. (Workshop examples: the knitting of a phoenix, an interactive discussion on the plot elements from Beowulf that can be found in recent fantasy novels, etc.)
Questions? See "How to Present at Conferences" from our very own Dr. Higgins!
Proposal Submission
Email the following to [email protected]:
Type of submission (paper, workshop, panel, presentation)

Title

300-word abstract or description

Name(s) of the presenter(s)

A two-sentence biography for each presenter.
Title your email "Mythmoot IX Proposal". All submissions must be received by 11:59 pm EST on March 25th, 2022.
No presentation will be given if the presenter is not registered to attend, and submission to Mythmoot IX is considered an agreement to both register and attend (either digitally or in person) to present should your proposal be accepted.
For an in-person event, each room will have a projector for presenter use. If you are presenting virtually, ensure that you have access to a computer, video camera, and microphone.
Mythmoot IX Registration
Registration for Mythmoot IX: Remaking Myth is currently available. Register here.
Conference Pricing and Details
We are glad to be able to offer lower prices this year for both Early Bird and Full Registration. This is due to the support we have received for MootHub. Thank you to all of our attendees!
EARLY BIRD PRICES FOR IN-PERSON ARE IN EFFECT UNTIL JAN. 31st!
MootHub registrations can be upgraded to in-person at a later date, but will not be upgraded with the Early Bird price unless you request the upgrade before the Jan. 31st Early Bird deadline. Additional Mythmoot conference pricing and details will be posted here as they become available. Like the Mythmoot Facebook or follow Signum University on Twitter to get updates on Mythmoot and our regional conferences throughout the year.
Cancellation Policy: Full refunds for Mythmoot registration are available, minus a $10 processing fee, up until 72 hours prior to the event.
Mythmoot Pricing (

Early Bird

until 1/31)

| | | |
| --- | --- | --- |
| | Early Bird | After Early Bird |
| Live – Full Conference | $375 | $420 |
| Live – Fri & Sat | $255 | $285 |
| Live – Sat & Sun | $255 | $285 |
| Live – Fri Only | $130 | $145 |
| Live – Sat Only | $130 | $145 |
| Live – Sun Only | $130 | $145 |
| MootHub | $75 | $75 |
Notice: Attending Mythmoot signifies your agreement for any photos or likeness captured or recorded during Mythmoot to be used by Signum University and its affiliates.