Join us from June 23-26, 2022, for Mythmoot IX: Remaking Myth
Mythmoot IX: Remaking Myth is coming!
Mythmoot IX is a hybrid event! We will be live June 23-26, 2022 in Virginia and have an online option (MootHub) for participants who cannot attend live. The Events Committee is pleased to announce the new venue for Mythmoot IX: The Washington Dulles Airport Mariott. Once you have registered for Mythmoot, the Events Team will send you email with a special code to reserve your lodging. Arrange your lodging quickly, our arrangements in this unusual venue are constrained by a quick deadline!

Dr. Michael D. C. Drout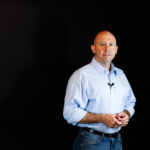 Dr. Michael D.C. Drout is Professor and Chair of English and Director of the Center for the Study of the Medieval at Wheaton College, Norton, Massachusetts, where he teaches classes in Old and Middle English, Old Norse, Linguistics, Science Fiction and the works of J.R.R. Tolkien. He has authored and co-authored several books, including ones on Aglo-Saxon, Beowulf, Old English, and the Liberal Arts. He edited J.R.R. Tolkien's Beowulf and the Critics and the J.R.R. Tolkien Encyclopedia and co-edited Transitional States: Cultural Change, Tradition and Memory in Medieval England. One of the founders of the journal Tolkien Studies, for which he has co-edited 19 volumes, Drout has published over sixty journal articles and books chapters on topics including Beowulf, digital humanities, Old English psalter glosses, Tolkien, math in science fiction, the hellmouth in the poem "Guthlac," and Anglo-Saxon medical remedies. He also serves as a consultant for The Lord of the Rings On-line MMPORG, Drout has appeared in two History Channel mini-series and recorded thirteen audio courses.
Dr. Faith Acker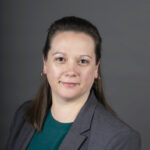 Dr. Faith D. Acker holds a PhD in Renaissance Literature from the University of St. Andrews and is the author of First Readers of Shakespeare's Sonnets, 1590-1790 (Routledge, 2020). Faith precepted her first Signum University course in 2011 and has, since then, lectured on Signum's MA courses "Shakespeare and the Middle Ages" (2017) and "The Life and Times of the English Epic" (2019) in addition to teaching at the University of Sheffield (2012-13), Cornerstone Academy (2013-17), Montgomery College (2017-18), Northern Virginia Community College (2017-19) and Southeastern Louisiana University (2020-21). Her current research examines the satirical portrayals of servants and tradesmen in seventeenth-century epitaphs.
Jeff LaSala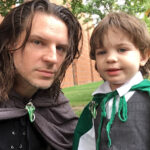 Jeff LaSala is a production editor for Tor Books at the Macmillan Publishing Group, a freelance writer, and a longtime tabletop gamer. As a Tolkien columnist for Tor.com, he writes essays that discuss, praise, and adoringly poke fun at all things Arda; for the Silmarillion Primer and its follow-up series, Deep Delvings into Middle-earth, he is entirely to blame. Jeff has written RPG adventures and campaign lore for Goodman Games, Dungeon and Dragon magazine articles for Wizards of the Coast, and the Eberron novel The Darkwood Mask. He can even be accused of hoodwinking a host of fantasy authors into writing cyberpunk fiction in the experimental, multimedia anthology known as Foreshadows: The Ghosts of Zero.
Thursday June 23d

Friday June 24th

Saturday June 25th

Sunday June 26th

8:00
(breakfast begins at 7)
(breakfast begins at 7)
(breakfast begins at 7)
8:30
9:00
"How to Present at a Conference" Dr. Sørina Higgins
Presentations
Presentations
10:00
Introduction to Mythmoot IX with Corey
10:30
Break
Break
Break
11:00
Keynote: Dr. Faith Acker
Keynote: Dr Michael Drout
Keynote: Dr. Tom Shippey
12:00
Lunch
Lunch with Corey
Signum Update and Closing with Corey
12:30
Lunch
1:00
Keynote: Jeff LaSala
Mandatory Free Time: Nap, Meet friends, Talk, Check out the Room of Requirement
2:00
Guest of Honor Panel
Silm Film Presentation
3:00
Break
3:30
Thesis Panel / Silm Film Casting
Break
4:00
Graduation Ceremony
4:30
Presentations
5:00
Meet and Greet
5:30
Break
6:00
Dinner
Dinner
Dinner
7:00
Pub Trivia
Signum University Press Roundtable
Masquerade Ball: Costume Contest and Dance Lessons with Sørina
7:30
Signum University Press Launch Party
8:00
9:00
LOTRO with Corey
Friday Evening Events: Karate with Corey, Gentle Yoga with Sørina, "Coyote and Crow" RPG with Chris Bartlett, etc.
10:00
Break
11:00
Movie
12:00midnight
Notice: Attending Mythmoot signifies your agreement for any photos or likeness captured or recorded during Mythmoot to be used by Signum University and its affiliates.
Mythmoot IX Registration
Registration for Mythmoot IX: Remaking Myth is currently available.
Conference Pricing and Details
We are glad to be able to offer lower prices this year for both Early Bird and Full Registration. This is due to the support we have received for MootHub. Thank you to all of our attendees!
MootHub registrations can be upgraded to in-person at a later date. Additional Mythmoot conference pricing and details will be posted here as they become available. Like the Mythmoot Facebook or follow Signum University on Twitter to get updates on Mythmoot and our regional conferences throughout the year.
Cancellation Policy: Full refunds for Mythmoot registration are available, minus a $10 processing fee, up until 72 hours prior to the event.
Mythmoot Pricing

| | |
| --- | --- |
| Days | Price |
| Live – Full Conference | $420 |
| Live – Fri & Sat | $285 |
| Live – Sat & Sun | $285 |
| Live – Fri Only | $145 |
| Live – Sat Only | $145 |
| Live – Sun Only | $145 |
| MootHub | $75 |