The Signum University Board provides guidance, oversight, and direction.
The Board provides three fundamental functions.
Advice
The Board offers advice to guide the future planning of the institution. The leadership team consults with the Board regularly on significant courses of action, and one Board meeting per year is dedicated to institutional strategy. In addition, the Board or its individual members may be consulted for advice by the University's leadership.
Accountability
Important decisions by the leadership team – such as major expenditures, changes to employment policy, or shifts in academic planning – are reviewed by the Board. The Board votes on whether to endorse the decisions brought before them to ensure that administrative leaders and faculty are following the strategic plan of the University.
Adjudication
The Board acts as a court of final appeal for the University community. This function provides a meaningful grievance procedure, which offers a way, in certain cases, for people to appeal decisions made throughout the University, up to and including the President. This function is especially important to protect academic freedom.
The Board meets quarterly January, April, July, and October. At each meeting, there will be a topic brought up for annual review.
Quarterly Board Review Topics

| | |
| --- | --- |
| January | Staff review to assess the organizational structure, including any changes from the previous year, and recommend developments in the year to come. |
| April | Academic program review of the university and consideration of plans for future program development. |
| July | Budget review for the upcoming fiscal year, which begins on August 1. |
| October | Annual vision and planning review to take stock of the progress the institution has made and recommend strategic initiatives for the Strategy Team to consider and implement over the course of the academic year. |
Board Membership
The Board will consist of no fewer than nine members.
The President of the University will serve on the Board ex officio.
Three members will be elected from within the Signum community as follows:
One faculty member
One member of administrative staff
One member of the student body
Elected seats on the Board will be chosen every year.
At least five individuals will be at-large members. At-large members will serve three-year terms, though Board members will be able to serve multiple terms.
The primary qualification for at-large Board membership is demonstrated commitment to and support of Signum University. At-large members will also often have some experience, expertise, or perspective that makes their service on the Board particularly valuable.
New at-large Board members are nominated by the President to the Board, which then votes on whether to ratify the President's nomination. Upon ratification, the President will invite the prospective Board member to join.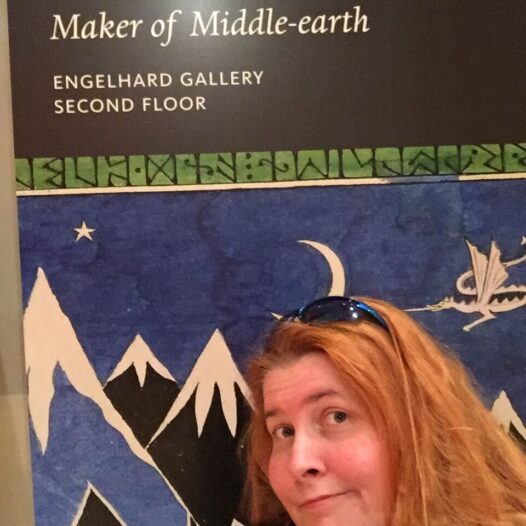 Twitch Broadcast Manager; Discord Moderator and Manager
Jean 'Druidsfire' Prior is Digital Moot Facilitator and Twitch & Discord manager for Signum University.