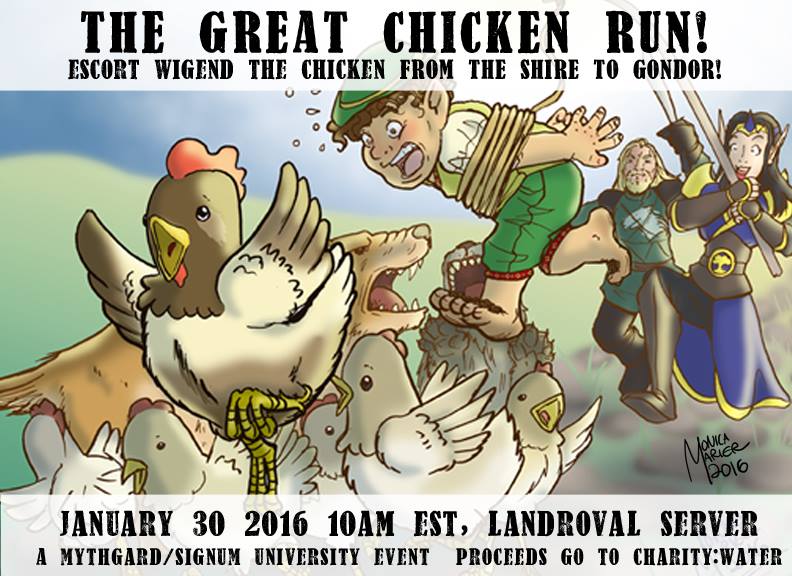 Watch Dr. Corey Olsen Run Like a Chicken!
In our fundraising campaign last fall, we offered a special incentive: If $7,000 in donations were designated as coming from our Mythgard on LOTRO (Lord of the Rings Online) community, University President Dr. Corey Olsen – known in-game as Gryfflet, the burglarious hobbit – would make a run from Sanderson's Farm in The Shire to Minas Tirith as a chicken. With much aplomb, the community came through, and more than $7,000 out of the total $35,000 in donations was raised to make Corey's epic chicken run a reality.
All are welcome to join, whether you play LOTRO or not. You can participate in any of the following ways:
Become part of the in-game escort team (all levels are welcome), for all or a portion of the run, to make sure Chicken Corey arrives safely to Minas Tirith
Watch the livestream video on Mythgard's Twitch.tv channel
Listen to the audio-only broadcast through our "Netmoot"

Note: Due to the time delay on the Twitch stream, it is not advised that you both view the livestream and listen to the audio-only broadcast.
Once Corey arrives at Minas Tirith, he will explore the city and talk about it as an adaptation of Tolkien's work, no doubt with many tidbits of wisdom and considerations of the architecture.
Paying It Forward
This event is possible because of the generosity of those who donated to Signum University. With that in mind, we are "paying it forward" by inviting participants (and others) to support Charity: Water, a non-profit organization dedicated to bringing clean
and safe drinking water to people in developing nations.
We know our friends and supporters are a generous group and hope to raise a lot of money for those who don't have access to safe drinking water.
Get Your T-shirt
To commemorate the event, Mythgard LOTRO Kinship manager Monica Marier has designed two T-shirts that can be purchased: