Help support the future of education.
Signum University sprouted from a desire to take fantasy and science fiction literature seriously.
Building from the success of his Tolkien Professor podcast, Signum's Founder and President Dr. Corey Olsen wanted to foster a serious academic discussion on imaginative literature among scholars and fans alike. Over the last six years, many volunteers and donors have contributed toward the success of that vision.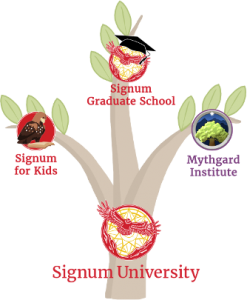 As a result, Signum University now has three main branches
While these programs have already seen great success, Signum University wants to do even more. Started from scratch as a 21st century university, Signum is ready continue building these programs that use the digital connections of our world in a fulfilling and edifying way for all want to learn what they love.
Learn more about how we are growing during our annual campaign events and throughout the year.
This year, we are highlighting the excellent programs and activities that the various branches of Signum conduct on a regular basis.
Among our standard programming are the following weekly events:
In addition, we will have a few special events that have become staples of our annual campaign, including a closing webathon. See the list of events happening during our campaign period. Links to more information will be provided as more details become available.
How Your Donation Supports Signum University
Website hosting services
Administrative tools for our worldwide team of volunteers, faculty, and work-study staff
For those who can't make it live, all events will be recorded and available for free viewing on the Signum University YouTube Channel.
Note: All times are Eastern Daylight Time.
Donor Appreciation Program
Signum University's students, staff, and faculty are grateful to our donors, and we want to show our appreciation. As a result, individuals who donate at certain levels will receive certain benefits as outlined in the table below.
Membership on the Council of the Wise
Signum Annual Memorabilia
Access to one course from the Signum Archive
Acknowledgement and access to a second course from the Signum Archive
Advisory Council membership and access to a third course from the Signum Archive
VIP admission to Mythmoot V
Mythgard seminar of your choice
Regional moot (meetup) in your hometown (or town of choice)
Donate Today
If you enjoy the activities offered by Signum University and the Mythgard Institute, please donate today. Donating not only gives you the special access to programs and courses noted, but it lets you help others enjoy our free educational materials as well.