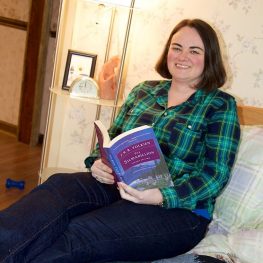 Jessi Robinson
Dean of Students, Student Record Coordinator
Jessi heads the Signum Student Support Team and helps maintain student records.
Jessi came to Signum through the Tolkien Professor podcast & Mythgard Institute. With a B.A. in English and an M.S. in College Student Services, she jumped at the opportunity to join the Signum staff. She now leads the Student Support Team, helping to ensure that all Signum students attain their educational goals.
Life shouldn't be complicated. This, in addition to "Be Prepared" are Jessi's life mottoes, and it is a personal goal to apply both to all aspects of her life and try to encourage this in others as well. By day, Jessi works in a university, keeping the path to graduation as clear as possible for all students. By night, when she isn't supporting Signum students, she is serving on the Directorate Board of the New England College Personnel Association or volunteering with her local Girl Scout Council or FFA Alumni chapter.
More information can be found on Jessi's About Me page.