The Final Frontier: Rediscovering Learning for All
The delight of learning
Too often we think of learning only as a means to an end. Get a degree in order to get a job. Take that course in order to qualify yourself for promotion. When considering a learning opportunity, we have been trained to say: "What am I going to do with this?"
At Signum, we want people to rediscover the delight of learning. We have set out to provide many different opportunities for people to learn more about what they love — and to discover new passions and interests along the way! Our many programs make exciting learning opportunities available for people at all stages of life.
The Love of Learning is for Everyone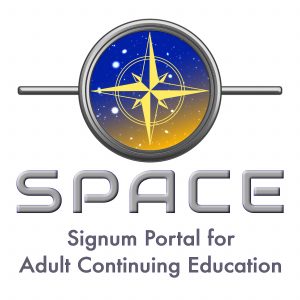 This year's campaign will take place between Wednesday, September 22, and Saturday, October 16, 2021.
A few words about Gifts and Prizes!
This year's Annual Fund Campaign will take place mainly during our regular broadcasts.
We will be doing special weekly gift raffles for our donors, combining our new donors with our recurring donors. Recurring donors who would like to improve their chances of winning a gift may make one-time donations each week throughout the campaign to receive an extra entry into the weekly drawings. The gift drawings will occur each week during the Mythgard Academy, The Nature of Middle-earth broadcast for the duration of the campaign. You do not need to be present to win, but we'd love to have you there so we can thank you personally for your support!
We will also be giving away prizes to our regional moot attendees. Those physically attending the moots and those attending digitally will have a chance to win!
Extra special days to put on your calendar:
9/22 Traditional Kick Off on Hobbit Day during our Mythgard Academy, The Nature of Middle-earth broadcast.
9/25 New England Moot: Second Breakfast
While this regional moot is not campaign focused, Corey will be talking a little about the campaign, and perhaps more importantly, giving away some prizes to attendees, both corporeal and virtual!
Use this link to go to the event webpage and join in the fun!
10/2 Wigend Muscles through Mordor Marathon
Join Corey on our SignumU Twitch channel to watch him take Wigend through Mordor in LotRO.
More prizes will be tossed about!
10/9 Middle Moot – Philology: Lover of Words, Friend of Words
Again, this regional moot is not campaign focused but Corey will have a few words to add and will be taking the opportunity to spread more thanks and gratitude in the form of prizes!
10/16 The Annual Webathon!
It will be a day-long blast, as usual. We have some delightful content planned for everyone as well as the annual State of the University address. The webathon will culminate in more LotRO shenanigans for those that didn't get enough during the marathon.
We will be posting more details here soon, including the link to the webathon broadcast.
Don't expect an early start as our fearless leader is rather vampiric in his daily sleep and work cycle.
2021-2022 Donor Appreciation Program
Signum University's students, staff, and faculty are grateful to our donors, and we want to show our appreciation. Individuals who donate at certain levels will receive the benefits outlined below.
Note: This year we are making it even easier to receive benefits through monthly donations. Recurring monthly donations help Signum better plan for budgeted expenses throughout the year. Please consider setting up a recurring contribution when completing the donation form.
$100 and up
or
$10 monthly
$150 and up
or
$12 monthly
Signum Annual Memorabilia: Your choice of a mug or bag featuring the exclusive annual campaign graphic
$200 and up
or
$15 monthly
Membership in the Signum Fellowship, including invitation to a monthly live interactive update with Corey
$250 and up
or
$20 monthly
$500 and up
or
$40 monthly
VIP digital access passes to two regional moots of your choice between now and August 2022
VIP digital access passes to two additional regional moots of your choice (for a total of four) between now and August 2022
VIP admission to Mythmoot (in person)
or
Digital Mythmoot access plus flex access to all regional moots, digital or in person
A full Mythgard seminar on the book, film, or TV series of your choice
Dedication of a course in Signum's MA in Language & Literature program to you or someone you designate, with an acknowledgment plaque on the course page and at the start of every lecture recording.
Donate Today
If you enjoy the activities offered by Signum University and the Mythgard Institute, please donate today. Donating not only gives you special access to programs and courses noted, but it lets you help others enjoy our free educational materials as well.