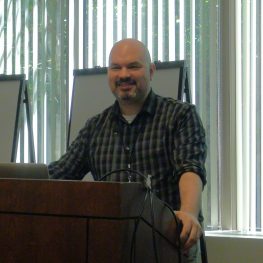 Curtis A. Weyant
Dean of Outreach; Strategy Council Member; Website Coordinator; Social Media Coordinator
Curtis A. Weyant is a digital marketing specialist by day and helps with Signum's outreach efforts.
Being a digital content specialist by trade and a student of speculative literature by choice, Curtis A. Weyant received his MA in Language & Literature from Signum University in 2017. As the Dean of Outreach, he oversees the various efforts to promote Signum and its programs across our various channels. He also oversees the Signum Website content and design, manages the University's social media accounts, and is co-host with Katherine Sas of the Mythgard Movie Club.
Curtis is a member of the Whedon Studies Association, and his paper "Exploring Cabins in Whedonverse Woods" has appeared in the association's peer-reviewed journal Slayage. His essay "'I've Never Met Anyone I Didn't Disappoint': In Your Eyes' Flaws and Fortes" is included in the revised and updated edition of Joss Whedon: The Complete Companion (April 2015). Curtis co-hosts the weekly podcast Kat & Curt's TV Re-View on Buffy the Vampire Slayer, Angel and Doctor Who, and he makes mostly harmless literary musings at CurtisWeyant.com. His writings have been featured at PopMatters, McSweeney's Internet Tendency and The Binnacle. He was editor of the Roberts Wesleyan College Journal for the Arts his senior year as an undergrad.
Curtis's favorite topics of study include Joss Whedon, Robert Heinlein, and Benjamin De Casseres.
Other Events
| ID | Event Name | Duration | Start Date |
| --- | --- | --- | --- |
| | Mythgard Movie Club: Pan's Labyrinth | 2 Hours | October 10, 2019 |
| | Mythgard Movie Club: Watership Down (miniseries) | 2 Hours | September 5, 2019 |
| | Mythmoot VI: Dragons | 3 Days | June 27, 2019 |
| | Mythgard Movie Club: Captive State | 2 Hours | April 18, 2019 |
| | Mythgard Movie Club: Blade Runner 2049 | 2 Hours | March 14, 2019 |
| MMC002-01 | Mythgard Movie Club: Blade Runner | 2 Hours | January 31, 2019 |
| MMC001-10 | Mythgard Movie Club: Night of the Living Dead | 2 Hours | November 15, 2018 |
| MMC001-09 | Mythgard Movie Club: She | 2 Hours | October 11, 2018 |
| MMC001-08 | Mythgard Movie Club: Predestination | 2 Hours | September 6, 2018 |
| MMC001-07 | Mythgard Movie Club: Edward Scissorhands | 2 Hours | August 2, 2018 |
| MMC001-06 | Mythgard Movie Club – Solo: A Star Wars Story | 2 Hours | June 14, 2018 |
| MMC001-05 | Mythgard Movie Club: Alien | 2 Hours | May 3, 2018 |
| MMC001-04 | Mythgard Movie Club: A Wrinkle in Time | 2 Hours | March 29, 2018 |
| MMC001-03 | Mythgard Movie Club: The Hitchhiker's Guide to the Galaxy | 5 Weeks | February 22, 2018 |
| MMC001-02 | Mythgard Movie Club: The Last Jedi | 2 Hours | January 10, 2018 |
| MMC001-01 | Mythgard Movie Club: Eternal Sunshine of the Spotless Mind | 1 Hours | December 4, 2017 |
| | One Fantastic Rogue Beast – An Impromptu Star Wars/Harry Potter Chat | 2 Hours | January 6, 2017 |